A wood burning stove is quite possibly the cosiest method of heating a garden room. Wood burners create a unique ambience with their dancing flames and the sound of logs crackling as the nights turn cold.
Log burners are also excellent for heating a garden office or summerhouse without an electrical supply.
In this guide, we'll cover everything you need to consider before deciding to heat your garden room with a wood burner.
Can you put a wood burning stove in a garden room?
It is possible to install a wood burning stove in a garden room, but you'll need to opt for one specifically designed for small spaces. A well-insulated garden room is going to heat up fast. If you buy a regular-sized log burner, you'll quickly overheat the room.
Flooring
Wood burning stoves are usually made from cast iron, and a small stove can weigh upwards of 50kg. You'll also need to account for the hearth, which can be very heavy if you opt for stone.
Garden rooms often have a suspended timber floor. The floor's strength is determined by the thickness of the timber and the spacing of the joists. Make sure your garden room's floor, including foundations, will support the weight of a log burner.
Roofing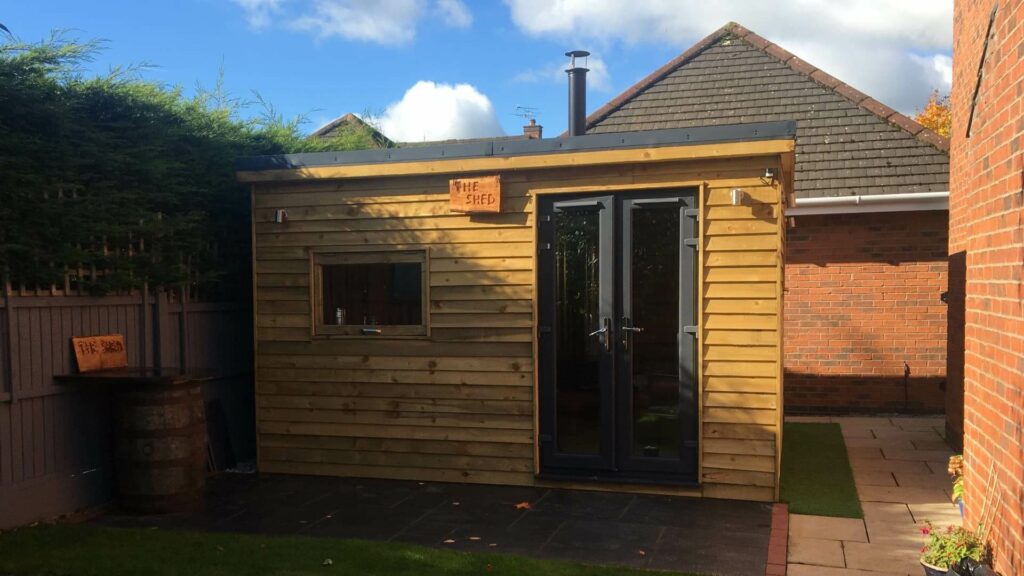 The type of roof you have on your outdoor office dictates the height that the chimney has to rise above the level of the roof. This is controlled by the building regulations Part J.
If your office is roofed with a fireproof material such as slate or bitumen roof tiles, the chimney can be lower. If, on the other hand, your roof is finished with untreated shingles or a turf roof, the chimney must be taller.
The height of the chimney must also be calculated to be far enough away from any roof windows in your office.
Important: Check that your professional installer calculates the correct height for you so that the installation meets all building regulation requirements. More information on building regulations can be found below.
Planning Permission and Building Regulations
There are several points you need to consider before you buy your stove:
Adding a wood burning stove may need planning permission. You can add a stove to your house without planning permission, but not necessarily to an ancillary building. If you live in a listed building or a conservation area you will definitely need planning permission.
If you live in a smoke control area, you will need to ensure you buy an approved "clean burn" stove such as the Ecoburn Defra.
You need to carefully consider how the flue will affect your neighbours. It will be at a lower level than a house flue, and wood smoke is harmful to health. It wouldn't be unreasonable for someone to complain to environmental health if your wood smoke was continually blowing into their home.
All wood burning stoves need to meet building regulations Part J, so make sure you are using a HETAS registered retailer.
You must install a carbon monoxide alarm.
Your garden room will need to have sufficient ventilation. In some cases, that can mean having an extra vent installed.
Choosing the right size stove for a garden room
One of the "problems" with installing a wood burner in a purpose-built garden room is that if it is very well-insulated, you will only need the smallest of stoves to heat it. And, you may still find yourself, in the middle of winter, having to throw the door open to cool down.
Typically you will want a stove that produces less than 5kW of heat. Many stove manufacturers are aware of the growing trend. They have started providing small stoves designed for canal boats and garden buildings. The Solid Fuel Association provides information on British Stove Manufacturers.
If you are putting the stove in an un-insulated building, you will obviously need a more powerful stove. But, it may make more sense to invest the money in insulation rather than in an expensive stove and a continuous supply of wood.
How to calculate output wattage
There's a simple formula you can use to work out the right size of stove to buy for your particular garden room or office.
First, multiply the room's height, width, and length in metres. These are the internal measurements of your garden room, not external. Then, divide that number by 25.
25 is the number used for exceptionally well-insulated new-build homes, so it should apply equally well to a garden room. If you're heating a log cabin with thick walls and insulation in the floor and roof, it may be better to divide by 14 instead.
Finding an Installer
If you're in the process of buying a garden room, speak to your supplier about your heating plans. They may be able to put you in contact with a suitable installer. At the very least, they'll work with your chosen installer to accommodate the process.
HETAS, an organisation that runs a government-recognised "competent person scheme" for solid fuel heating, offers a directory of qualified installers.
A HETAS installer will be well-trained in installing solid fuel heating systems and able to certify their own work. Work carried out by a non-certified installer will require building regulations approval.
Pollution caused by wood burners
Wood is a renewable resource making a stove more environmentally friendly than many other heating sources. Still, wood burners have hit the headlines recently because of their contribution to air pollution. An article in The Guardian claims that domestic wood burning is now the biggest cause of UK particle pollution.
New government statistics attribute 38% of PM2.5 pollution to domestic open fires and solid fuel stoves. Keep in mind that those figures are contested by industry groups like HETAS and the Stove Industry Alliance (SIA).
Rules, which come into effect from January 2022, will mean that wood burners must meet more stringent "seasonal efficiency" levels.
While the government aren't proposing an outright ban on wood-burning stoves, they have taken action to try and reduce particulate matter emissions. DEFRA recognise air pollution as the largest environmental risk to public health in the UK. As of 1st May 2021, wet wood (wood with a moisture content above 20%), and bituminous house coal, have been banned from sale.
Air quality in the UK has consistently risen for years. However, the popularity of wood-burning stoves threatens to reverse progress. If your garden room has an electrical connection, you may want to consider an electric fire instead.
Do you have enough space to store wood?
For a wood burner to be a cost-effective method of heating a garden office, you'll be buying in bulk. Consider whether you have enough space around your garden room to store logs. Logs need to be kept dry and out of the rain.
Conclusion
Heating a garden room with a wood burning stove is not only possible, but where there's no electrical connection, it can be an ideal solution.
Since most garden rooms are exceptionally well insulated, you'll need to buy a stove that's purpose-built for small spaces. The formula outlined in the article can help you determine the most suitable size.
Although it's cheaper to heat a space with a log burner over gas or electric alternatives, the high upfront cost usually makes them more of a design choice.