It takes time to choose an office. To find the building that's best for you consider the following:
How often will you use your office? This will influence the quality of building you need. Cheaper insulated chalets may be OK for occasional use but for all year round use we strongly recommend researching the insulated garden offices market. There are many manufacturers is the UK that specialise in this type of building.
Will you need space for a full range of computer and office equipment or just a phone and a tablet? The intended use of your building will obviously influence the size you need. If you are a painter or musician with lots of equipment, you will need a larger space for storage and obviously you will need a warm, dry space.
If you employ people in your business you will need a larger garden office. Don't think too small, but on the other hand don't overwhelm your garden or the neighbours.
Do you want an integrated shed or storage area that can be accessed by other members of the family without disturbing you when you're working?
All these questions influence the size and quality of the home office you will need to work comfortably from home.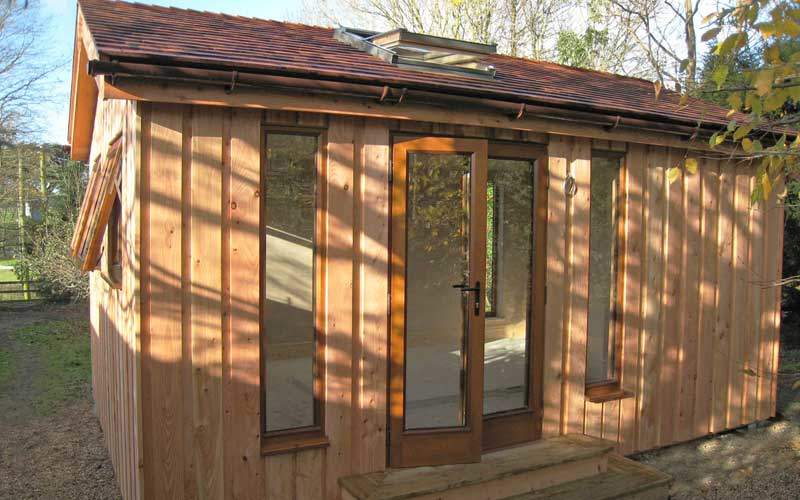 Building ranges
Broadly, there are three categories of garden office buildings: 
Off-the-peg – An office 'pod' designed and manufactured in a workshop to a standard size and specification.
Modular – An office that can be varied slightly. E.g. extra windows can be added or a door moved.
Bespoke – A unique office of any design or size, decided between you and the architect.
Off-the-peg garden offices are cheaper because they are the easiest to make. You will pay more for a garden office that can be modified. The most expensive option is an architect-designed office because it offers you the maximum choice of design, size and materials.
Office building tips and tricks
There is more to an office or studio in the garden than four walls, a roof and a floor. Good quality building materials and plenty of  insulation are vital to create a comfortable working environment. Knowing how much your office will cost to run is important. Also, think about your budget for after-care and maintenance.Below is some basic information about how wooden garden offices and garden rooms are built. Knowing a little about construction and building materials will hep you assess the quality of a building, before making a choice. Quality and price vary enormously, but as with most purchases you get what you pay for. Manufacturers have to own and maintain their premises and promote their business, all of this adds cost, but the key elements are materials used and quality of design.
Timber frame or SIPs
Expensive garden offices are built using either timber frame or SIPs. Both systems are used in house building and have been adapted for garden office builds. Cheaper offices can be made using good quality log cabins or well made sheds. Ask your supplier about the construction method.
The office roof
When choosing a roof you need to balance durability, budget and appearance.
Cheaper office-shed roofs are finished with bitumen tiles or man-made membranes.
More expensive roofs are made with cedar shingles or slate.
Living roofs are an instantly attractive option but they are very expensive, need weeding and watering and don't provide good insulation.
Garden Office Insulation
Insulation is the most important part of all garden offices.  A properly insulated building needs less heating and won't suffer from condensation. Choosing the best insulation you can afford saves money in the long term. Read more about insulation.
Windows and doors
 Lots of large windows in a small building reduces the effectiveness of the insulation, even if the windows are double glazed.
Double glazed windows and doors are available in a variety of qualities; cheaper wooden windows that you can glaze yourself, uPVC, pressure-treated wood or metal-faced windows.
French doors should open outwards to prevent water getting into your building.
High quality locking systems on windows and doors are vital. Check that locks comply with standards required by your home insurer.
Windows and doors must be installed correctly to work efficiently. Check that your garden office supplier is also a qualified window installer.
Exterior cladding
Cedar and Douglas fir are popular claddings for wooden garden offices, and so is larch. All these woods are available  in different grades. Quality depends upon the part of the tree the cladding has been cut from and the thickness of the plank. Even where the tree was grown affects the quality and performance of the wood. Check that your cladding will last a long time without lots of treatment and maintenance. Read more about different woods here: http://www.trada.co.uk/techinfo/tsg/
Internal finish
Plastered walls in a garden office provide a permanent and fire-resistant finish.  Cheaper alternatives are vinyl board or tongue and groove cladding. Most suppliers have a preferred wall finish and don't offer a choice.
Electrical
How many sockets are included in the price of your building?
Are light fittings included? How many?
Do you have a choice where the sockets and lights are positioned?
Are all of these options shown clearly on your garden office plans?
More about office electrics.
Foundations
There are four different types of foundations for garden offices:
Strip foundations dug into the ground
A concrete pad
Supports that sit on the surface of the garden
Screw foundations
This link explains foundation systems in more detail.
Extra features to think about
Garden office suppliers can often add extra items for you:
Velux roof windows for more light and ventilation.
Plumbing of a toilet and shower if you want your office to double as a gym or guest room.
Storage for overflow living. Many manufacturers will design a shed on the end of your building for you.
Add a wood burning stove, but you may need planning permission.
A final word about garden offices
Compromise on the size of your garden office rather than quality. This will save you money on maintenance, heating and air conditioning. The building will last longer. Buying a cheap building to use as an office is a false economy. Explore The Garden Buildings Guide and find the right office building company for you.