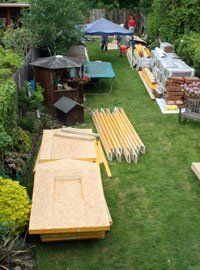 The garden office you've seen on  suppliers' websites look great but how do you assess the quality? It is worth finding out a little about garden office construction and materials before you choose a particular supplier.
If you are interested in using local or British grown woods you will need to ask your office supplier some questions about how they source their timber. Many cheaper wooden garden buildings such as sheds and log chalets are imported from Eastern Europe or even China. Of course the timber that you can see on the outside of your office is only part of the construction. There are many different materials used to build garden offices and here we explain some of the basics.
The choice in construction quality is broad, ranging from specialist buildings constructed with British grown wood and eco-sensitive materials through to buildings constructed using uPVC cladding and windows.
25% of British carbon emissions are caused by badly insulated domestic buildings.
Another 25% are caused by personal transport.
This is why we are great supporters of home working and well-designed, well insulated garden offices. We believe that minimising the environmental impact of offices is an important part of the construction.
When choosing a office you may want to discuss environmental policy with your supplier. Subjects you could discuss with them are:
Lifespan – how long will the building last?
Insulation – how much insulation do they put in their garden office buildings?
Energy efficiency – how much will the building cost to heat/cool over a year?
How much of the building can be recycled?
Do they use materials made in the UK or imported materials?
Construction
Do you want to know how your new garden office will be constructed?
Some people want to know and others just want to get on with it.
There are a number of different methods of garden office construction. The main ones are timber frame, steel frame, a SIPs kit, an interlocking log cabin system or a traditional shed. If you want to know how your office is built, don't be afraid to ask. Whatever the construction method is, the results you want are:
A strong "skeleton" and wall panels that are wind resistant and support all of the weight/load of the office.
An accurately manufactured and weather-tight office, efficiently built in a short period of time.
Building panels that can be made small enough to fit through narrow gates and passages.
High levels of thermal insulation to reduce heating costs and conserve energy.
A good standard of internal finish that you can decorate and maintain easily.