Natural woods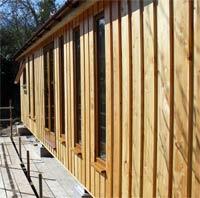 If you want to clad a garden office or other wooden garden building with wood grown in the UK, either larch or Douglas fir are good choices. Larch is used in boat building ans is known to last for years because of its high resin content.
Cedar, though mainly an imported wood, is another popular cladding choice. Cedar is quite a soft wood and can damage easily if knocked.
Woods such as pine are too soft for external cladding and will rot too quickly, even if treated with preservatives.
You could consider oak for a very special finish on a garden office, but it needs to be installed by someone used to working with oak and it is very expensive.
Engineered woods
There are a number of engineered cladding woods available such as Thermowood. Engineered woods have been pressure treated to ensure that they have a certain life span and are a good choice for cladding a garden office.
Coloured woods.
You can also buy ready coloured cladding woods that have been treated and spray painted. Typically these are more expensive than untreated woods. An example of this is Cape Cod Cladding which is guaranteed for ten years. For a garden building it is probably cheaper to paint or stain the cladding yourself. Some suppliers do offer coloured finishes for their buildings.
Man Made Cladding
There are many different types of man made cladding that could be used on a garden office or garden room. Some are made of cement, others of uPVC. But is using a man made cladding on the outside of your office as attractive as using wood?
More information on office construction.