Our expectations are changing with the popularity of garden rooms soaring and their presence becoming more commonplace in UK homes. We're asking for extra facilities to add increased versatility to the spaces we create. Plumbing is high on the list, with bathrooms and kitchenettes proving to be some of the most in-demand garden room features of 2022.
This guide covers why you might consider plumbing options for your garden room, the practicalities involved, and how much it'll cost.
Why consider plumbing options for a garden room?
The majority of garden rooms aren't connected to the mains water supply. Moreover, plumbing is a luxury which not all suppliers can cater to. With this in mind, why might you want to add a mains water connection?
In short: plumbing can help transform a garden room into a fully self-contained unit.
If your budget allows for a mains water supply, not only will you gain added convenience today, but you'll build in flexibility for the future. Of course, needs change over time, and spaces must adapt.
Adding a Bathroom
Installing a bathroom is far and away the most common plumbing request garden room suppliers receive.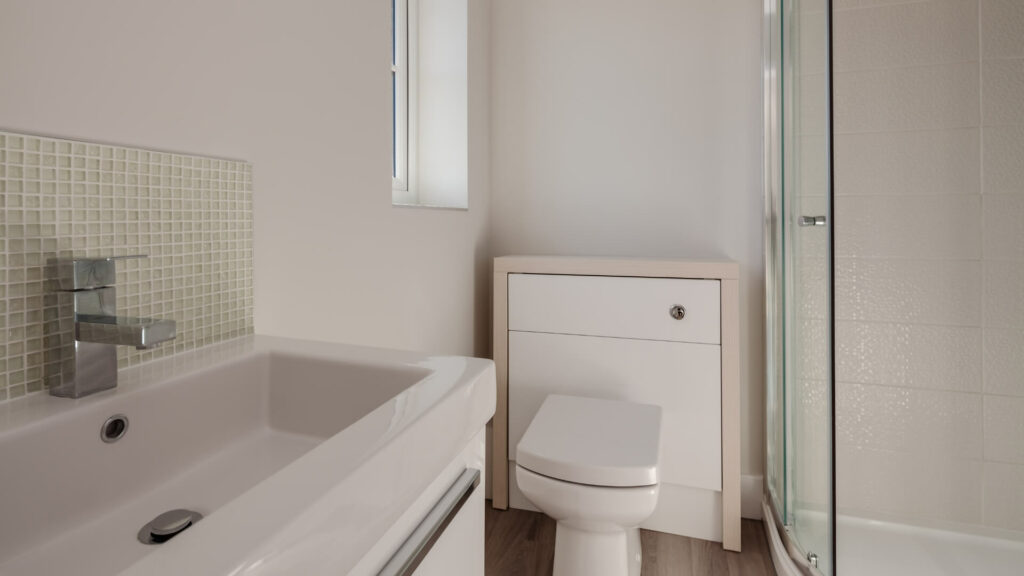 It's easy to see why. If you're going to spend the day working from a garden office, for instance, you don't want to be traipsing back and forth to the main house. Having a toilet in your garden room will enable you to work uninterrupted.
Perhaps you're considering turning your garden room into a guest bedroom. In that case, an en-suite bathroom is vital. If relying on the bathroom in your main house isn't ideal during the daytime, it's not remotely practical at night.
Garden room bathrooms, just like the buildings themselves, match the quality and finish of a modern home.
Adding a Shower Room
Shower rooms are particularly popular with those planning a garden gym. Equally, garden workshops, annexes, and guest bedrooms could benefit from installing a shower.
Garden room suppliers typically recommend installing an electric shower. After all, you need some way of heating water without relying on a boiler.
"What about sinks?" you may ask. They need hot water, too, right? A small (7L – 10L) water heater is usually fitted under the sink in a garden room.
Adding a Kitchen
Garden room kitchens are anything from a countertop with a sink to a full-blown cooking and dining space.
Have a garden bar in mind? A sink, even a dishwasher, to wash glasses will come in very handy.
Perfect for alfresco dining, a garden room kitchen can provide a luxury space for entertaining.
While some suppliers have pre-designed compact kitchens, often you'll be responsible for choosing appliances. With other suppliers, you'll have the freedom to design the entire garden room kitchen from the ground up.
Adding a Washing Machine
It's no secret that modern homes are shrinking. Consequently, fewer homes have utility rooms, and kitchens are smaller than ever. As a result, a new trend is on the rise: garden rooms as a place to house washing machines and tumble dryers.
Installing a washing machine in a garden room requires a cold water feed as well as a waste connection. Older washing machines also needed a hot water feed, but eco-friendly standards have made that a thing of the past.
To get the most out of using your garden room as a utility room, you'll probably also want to consider adding a sink.
Connecting a garden room to the mains water supply
If you want to add a bathroom or kitchen to your garden room, that usually means connecting to the mains water supply. To do that, you'll need two sets of pipes: one to supply fresh water and the other to remove waste (grey) water.
Installing a cold water feed in a garden room
Your garden room supplier will begin by surveying the site. They need to identify an accessible mains water source, such as underneath your kitchen sink, to connect to. They'll also need to determine the most convenient way to connect to your property's sewage system.
The pipework from your house to your garden room must be buried at a minimum depth of 750mm underground. That's to ensure they're below the frost line and won't freeze.
Regulations in the UK also state that the maximum depth service pipes should be buried at is 1,350mm.
Garden room installation usually entails digging a trench for utilities. The electrical supply and networking, for example, run through a trench. Depth is the only difference.
How much does it cost to install mains water in a garden room?
The cost of connecting a garden room to the mains water supply ultimately depends on the site, but it usually starts from around £1,500.
Installing a toilet in a garden room requires additional plumbing work and increases the cost to a typical minimum of £2,000.
Comparing quotes between suppliers
When obtaining quotes from garden room suppliers, always ensure they include the cost of the mains water connection.
Some quotes, for example, may include a bathroom suite but not the work required to install a cold water feed.
It's vital that you read through the specification for each quote to ensure you're comparing on a like-for-like basis.
Is planning permission required for garden rooms with plumbing?
Although most garden rooms are built under permitted development, that only applies to what's known as incidental use.
Ancillary use, on the other hand, applies to primary living accommodation such as a bathroom, kitchen, or bedroom.
Installing a bathroom or kitchen in a garden room may be considered ancillary use and therefore require planning permission.
A purpose incidental to a house would not, however, cover normal residential
uses, such as separate self-contained accommodation or the use of an outbuilding for
primary living accommodation such as a bedroom, bathroom, or kitchen.

Permitted development rights for householders: technical guidance (2019)
With that said, there are cases where a garden room could include a toilet and still be classed as incidental. A toilet in a garden office, for instance, is an ancillary provision but subordinate to the incidental use of the space.
It's always best to speak with your local planning department before making any decisions. As the homeowner, it's your responsibility to ensure any work you have done complies with planning law.
Building Regulations approval is required for plumbing work
Garden rooms are often exempt from building regulations providing their internal floor space is under 15 square metres and doesn't contain sleeping accommodation.
For garden rooms with an internal floor space between 15 and 30 square metres, they can still be exempt providing they're at least 1m from any boundary, or are built from non-combustible materials.
Garden rooms with plumbing don't benefit from such an exemption and must be fully compliant with Building Regulations.
If in doubt, always contact your local Building Control Body (BCB).
Working with an experienced garden room supplier is the best way to ensure that the process runs smoothly. They'll be familiar with the various requirements, organise all necessary checks and visits from a Building Control Officer, and obtain the final certificate on your behalf.
Can plumbing be added to a garden room retroactively?
Generally speaking, you could retroactively add a water connection to a garden room. For most, however, it's impractical. As noted previously, building regulations compliance is necessary, which usually has to be factored in from the start.