Smart Garden Offices are unique in their supply of fitted office furniture with their garden offices. It makes a lot of sense to have furniture designed and fitted to suit you and your garden office. And, they make and fit the furniture themselves.
Here Charlie Dalton MD of Smart Garden Offices talks about their fitted interiors:
I designed our first fitted desk in 2003 – called the MultiDesk in those days! We build our interiors in either a Walnut or Beech finish – but each individual specification is unique to match the building and the customer's individual requirements.
When designing an interior for our garden office clients we like to get a good idea of how the customer works and what they want to use in their office, and then configure the furniture around them. Interestingly there is a male/female divide in taste in office fittings. Female customers prefer the Beech finish and tend specify longer desks, whereas our male customers like the cockpit style of a full "returned" desk.
Our fitted interiors optimise the space – which is particularly important in our Micro and Solo offices where every millimetre counts! Our furniture is popular with IT professionals, Business Coaches and Graphic Designers – they like all the storage. But we don't recommend our furniture for artists or for those seek a multi-use building – as our VersaDesk system can be quite inflexible if you require large amounts of general floor space.
We use high quality boards the build our interior fittings. All our desks, cupboards, bookcases, libraries and now the Book Nook are based thick and chunky 25mm boards. We never use chipboard – Yuk!
At Smart Garden Offices we are all trained and experienced joiners here, but tends to be Tony, Jon and Mike who create and build the furniture commissions – it's a very satisfying part of the job.
Libraries
Smart Garden Offices have some new and further development for the Book Nook which they'll release later this year.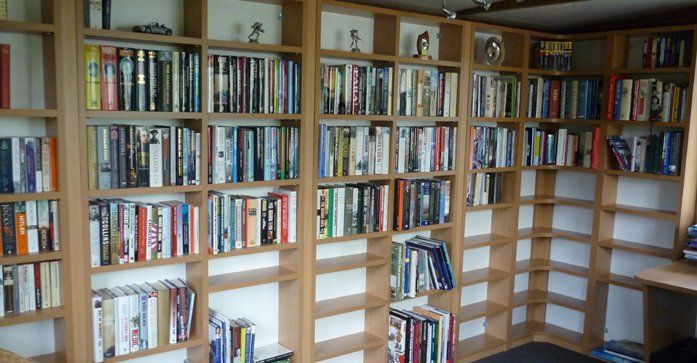 And finally Charlie says:
I just love our libraries. I was brought up in the family printing company and I also have a bookaholic wife, so I love the feel, smell and the sheer weight of a proper book. Our libraries are generally created for those who really cherish their books too. Many of our customers include historians, genealogists, authors, acedemics and musicians who just want to "commune" with their books. I get a real kick out of visiting a recent customer and seeing how they've displayed and ordered their collections.
You can visit Smart Garden Office's website by clicking here: visit website