If you have researched garden rooms and garden offices you will know that each supplier has their own, preferred foundation system. Alison Dalton of Executive Garden Rooms explains why her garden office company prefers to build on a traditional, time-tested, concrete slab.
Alisons feel that when people are investing a lot of money in their garden room, building it on a more traditional base of the type that you would use for an extension attached to your home is the sensible option. Particularly if you want to put heavy equipment, such as a grand piano, in your garden room or garden office. (Executive have recently built 2 rooms for grand pianos).
Concrete slabs provide a sturdy base that doesn't have the 'bouncy floor' effect. A solid concrete floor is more suitable for gym equipment and for physical exercise where people are jumping, running or using weights. The solid, stable floor that you get using concrete is also appropriate for living accommodation and offices.
Alison believes a reinforced raft concrete slab not only creates a solid foundation for your garden room, but also stops foxes and rodents from nesting underneath the building.
Alison pointed out that a lot of her clients, especially those living urban areas and who have young children, do n't want to risk inviting foxes to live in the garden.
Here is a photo of one of their recent builds, where foxes tried to burrow underneath, but when meeting the concrete foundation, they gave up and moved on to an easier target in someone else's garden!
Three more key points about EGR's slab foundations:
Their concrete slabs form the floor and are insulated with 90mm of Celotex solid board insulation. The slabs also contain 10mm reinforced steel mesh for strength and stability.
A foundation that is level with the surrounding ground means that EGRs can maximise the internal floor to ceiling height.
And finally, because the floor is at ground level, rather than raised, there is no need for steps or a void around the building.
Executive Garden Rooms finish the area around their garden building with either decorative stone, pea shingle, grass or paving, which ever the client chooses.
A question that a lot of prospective garden room owners ask is "Can we build on an existing garage slab?"
They have built on existing slabs but they always ask the client to sign a waiver that EGR take no responsibility should any issues arise, as EGR can't be expected to know or guarantee the standard of that slab.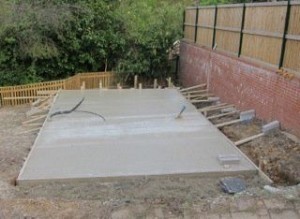 Alison says: "We have a garden room coming up where the client asked if building on their garage base was acceptable, the slab had a crack in it so we both decided that we would take the old slab up and lay a new one. We are happy to break up and take away any existing slabs, greenhouses, garages etc."